by Marlee Speizman
January 26, 2013
The Justin Bieber concert January 26, 2013 was as hectic as any Saturday in Miami Beach could be. After hours of hair, make-up, and a long car ride we finally arrived at the American Airlines Arena at 3:00 pm. We quickly secured our spots in the meet and greet line along with hundreds of other devout fans. After what seemed like hours of applying and reapplying lip gloss and mascara, we made our way into the backstage area of the arena. We truly got the backstage experience: meeting Justin's road manager, Kenny Hamilton; grandparents, Diane and Bruce; stylist, Ryan Good; lead guitarist, Dan Kanter; and even influential movie director, Jon M. Chu. Jon Chu was nice enough to stop and talk with us about the possible production of a new Justin Bieber concert movie. He even told us that they would be filming for this movie that night.

Finally, the glorious moment occurred. We made our way over to the meet and greet room. We were surrounded by nervous girls, some were even crying. As we moved further and further towards the front of the line, we could hear the cameras flashing. Butterflies instantly filled our stomachs and we finally understood what everyone around us was feeling. We were finally at the front of the line and we couldn't believe it. We knew this would only last seconds so we prepared our entry plan, which didn't go so well. As we walked in, Marlee tripped on the carpet (or as some people might call it the air) and fell right into Justin Bieber's arms. He sweetly caught her said in his high pitched voice "Woah, don't fall now." We proceeded to pour our feelings out to him which involved many I love you's, you're my inspiration's, and you're so hot's. We were shoved out of the space and told to leave the room and make our way to our seats.


We made our way down to the floor pit and approached our fabulous seats. The concert was scheduled to begin at 7, but typical Justin didn't set foot on the stage until 8:45. Once the concert started, everything was a blur. His performance was fantastic and he ended the show with a bang when he emerged from backstage for an encore and sang his hit song Baby. Even though we weren't chosen to be the One Less Lonely Girl, we still felt special. Justin has a way of making girls feel like they're the only ones in the room. The rest of his tour, and of course, his movie will be amazing. We enjoyed every second of it, especially those special 15 we spent with Justin Bieber.
Welcome back everyone!
We will hold our first organizational meeting of 2013 on Saturday January 5th at 2pm. Email me (nrich@sweptawaytv.com) for the exact location.
We will have four teams this semester: Mainstream Team, Sports Team, Left of Center (all non-mainstream events and artists), and News/Public Interest. We are looking for team members to write, edit, direct, film and produce segments for our new weekly broadcast. We also need a stylist and hair/makeup person who will be responsible for the look and feel of the cast.
If you are not in the South Florida area, we welcome your contributions written or filmed and edited. Segments are no longer than 2 minutes and have an opening and closing and are in .mov format. Contact me and I will give you instructions how to upload to our ftp site.
Let's get started!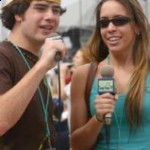 Our own major music event takes place from April 27 to May 1 on the water in downtown West Palm Beach.  Over the past 10 years Swept Away Tv has covered many artists and an incredible number of great live performances.  This year's lineup is amazing!  Take a look!
SunFest, Florida's largest music, art and waterfront festival, announces national acts scheduled to headline at the 29th annual event being held April 27-May 1, along one of the most scenic sections of Flagler Drive in downtown West Palm Beach. National acts scheduled to perform include Jason Mraz, Earth, Wind & Fire, MGMT, Sublime with Rome, Cee Lo Green, Jeff Beck, Taking Back Sunday , Gregg Allman, Neon Trees, The Avett Brothers,  O.A.R., Styx,  Mike Posner, Sick Puppies, Never Shout Never,  Prince Royce,  Cherry Poppin' Daddies, Toad the Wet Sprocket, Anberlin, The Supervillains, Preservation Hall Jazz Band, Brooke Fraser, and Ziggy Marley. More entertainment to be announced as confirmed.
"SunFest has become known for putting together a diverse line-up and this year we have truly delivered," said Paul Jamieson, executive director of SunFest. "From Pop and Reggae, Classic and Alternative Rock, Jazz and Latin, we have pulled together an exciting lineup.  We have an incredible setting along the waterfront of downtown West Palm Beach. It's a music experience like no other available to festival goers and music lovers."
Florida-based reggae group The Supervillains will perform Wednesday evening, April 27 on the Bank of America Stage. In their twelve-year existence, The Supervillains have grown from hometown heroes in St. Cloud, Orlando to one of the most recognizable names in reggae.
Swept Away Tv favorites Ska-punk band Sublime with Rome will perform Wednesday evening, April 27 on the Bank of America Stage. Sublime is known for their rhythm section, funky drumming and bass lines.  In 2010, founding members of Sublime, drummer Bud Gaugh and bass player Eric Wilson announced they would officially take the stage once again with new front man, singer/guitarist Rome Ramirez. After 14 years the new Sublime with Rome reintroduced themselves and Sublime's music to fans across the country by energizing crowds with old Sublime favorites like "Santeria," "What I Got," and "Wrong Way." The band has moved ahead with new material, including their new song "Panic." Sublime with Rome is currently working on a debut album slated for release sometime in 2011.
Folk rock band The Avett Brothers will perform Wednesday evening, April 27 on the Tire Kingdom Stage. Noted in 2009 Rolling Stone magazine as artist to watch, The Avett Brothers are known for rowdy, energetic live shows and honest lyrics. Their sound has been described as having the "heavy sadness of Townes Van Zandt, the light pop concision of Buddy Holly, the tuneful jangle of the Beatles, and the raw energy of the Ramones."  The Avett Brothers have opened for Dave Matthews Band and John Mayer among others. Their latest album I and Love and You was produced by legendary producer and talent scout Rick Rubin.
Swept Away Tv interviewee  Jason Mraz will perform Thursday evening, April 28 on the Bank of America Stage. Mraz is best known for the single "I'm Yours" off of his third studio album We Sing, We Dance, We Steal Things, which debuted at #3 on the Billboard Hot 100 charts in 2008. This two time Grammy award winner is known for his clever, observant lyrics and strong engaging pop melodies. He encourages fans to record his live performances which often contain an element of surprise and the showcasing of a new song never heard by the public before.
For the hip hop fans Grammy-award winner Cee Lo Green will perform Thursday evening, April 28 on the Tire Kingdom Stage. Cee Lo Green hails from Atlanta, Georgia and is a singer, songwriter, rapper and producer who has a knack for continually reinventing himself. Cee Lo began his career as part of the renowned and influential hip hop group Goodie Mob prior to breaking out on his own in 2002. Green released two solo albums before becoming part of the superstar duo Gnarles Barkley with alternative music producer Danger Mouse.
Another Swept Away Tv interviewee the band Anberlin will perform Friday evening, April 29 on the Bank of America Stage. Hailing from Orlando, this mainstay in the alternative rock scene is touring in support of their fifth studio album. Their hits include "Impossible," "Dark Is the Way" and "Light Is a Place." Led by the soaring vocals of Stephen Christian, the positive-thinking Anberlin also included Joseph Milligan (guitar), Nathan Young (drums), Joey Bruce (guitar), and Deon Rexroat (bass), and presented an alternative pop/rock sound that, while inflected with the earnestness of emo, was closer to the mature stylings of Third Eye Blind.
Another favorite Taking Back Sunday will perform Friday evening, April 29 on the Bank of America Stage.
Taking Back Sunday is one of the leading groups on contemporary punk scene.  The band boasts 3 gold albums, two of which hit the top five including a #2 debut for 2006's Louder Now.
Cherry Poppin' Daddies will perform Friday evening April 29 on the Tire Kingdom Stage.
Gregg Allman will perform Friday evening, April 29 on the Tire Kingdom Stage. Gregg Allman is both a founding member of one of the biggest American bands of all time, the Allman Brothers Band, and a critically acclaimed solo talent. In addition to his singing and playing, Allman has written many memorable hits, including the classics "Midnight Rider," "Dreams" and "Queen of Hearts." In January 2011 the Southern rocker released his first solo album in 14 years Low Country Blues, marking Allman's return to the front ranks of American music.
Mike Posner will perform Friday evening, April 29 on the FPL Stage. American singer, songwriter and producer Mike Posner got his music career going when he self-released two mix-tapes and signed a record deal with J Records while still attending college at Duke University. He returned to school to finish his degree before launching his debut album 31 Minutes to Takeoff in August of 2010. The album includes the Billboard Hot 100 Top 10 single "Cooler Than Me'' as well as his second single "Please Don't Go."
Ziggy Marley will perform Saturday afternoon, April 30 on the Bank of America Stage. Marley is the oldest son of reggae legend Bob Marley. Ziggy is a five-time Grammy award winner best known for singles such as "Drive," "True To Myself," "People Get Ready" and "Tomorrow People." His next album is tentatively entitled Wild and Free and is slated for release in the summer of 2011. His latest release "A Fire Burns For Freedom" is the second song released in the Wild and Free Series, and comes on the heels of his first release, "Africa Land." This song supported a historic moment, Africa's hosting of the 2010 World Cup for the first time.
Never Shout Never will perform Saturday afternoon, April 30 on the Tire Kingdom Stage.
One of 2010's most buzzed about acts Never Shout Never is fronted by 20 year old Christopher Drew Ingle.
Alternative Rock group Toad the Wet Sprocket will perform Saturday afternoon, April 30 on the FPL Stage. The band is best known for their hit singles "All I Want" and "Walk on the Ocean" off their 1991 certified platinum album Fear.  To this day, their mellow, melodic folk-pop sound makes them one of the most successful bands of the 90's. In December 2010, the band announced their official reunion as a full-time working band. They are currently writing songs for their first studio album since their 1997 release Coil.
MGMT will perform Saturday evening, April 30 on the Bank of America Stage. MGMT is an American psychedelic-rock band based in Brooklyn, NY. This electric brainy pop group with psychedelic overtones and unusual pop structures is best known for their singles "Kids," "Time To Pretend" and "Electric Feel." MGMT was nominated for the 2010 Grammy Award for Best New Artist.  Their second album Congratulations was released in 2010.
Styx will perform Saturday evening, April 30 on the Tire Kingdom Stage. The group hails from the south side of Chicago and is one of the most successful "arena rock" groups of all time. They have performed more live since '99 than all of the previous years of their career combined. Styx has sold more than 35 million albums worldwide and is one of the few bands to have had three top ten songs in three different decades, the 70s, 80s, and 90s. The band is best known for hit songs such as "Come Sail Away," "Mr. Roboto," "Babe," "The Best of Times," and "Show Me the Way."
Another interviewee from 2009 The American rock band O.A.R. will perform Sunday afternoon, May 1 on the Bank of America Stage. O.A.R. (originally known as Of a Revolution) is well known for their unique concert performances in which the band often creates variations to songs making it rare to hear an O.A.R. song played the exact same way twice.  In 2008, "Shattered (Turn the Car Around)" the first single off their sixth studio album All Sides, peaked at number 2 on the Top 40 charts and was named one of VH1's top videos of that year. O.A.R.'s reputation as being one of the top live bands performing today has led to them selling out such venues as New York City's Madison Square Garden.
And lately of the Buzz Bake Sale 2010, Australian rock trio Sick Puppies will perform Sunday afternoon, May 1 on the FPL Stage.
Neon Trees will perform Sunday evening, May 1 on the FPL Stage. The band first started playing under the name Neon Trees in late 2005 after the keyboard/vocalist Tyler Glenn was inspired by the lighted trees on the In-N-Out Burgers signs of the popular west coast burger chain. Like their name, Neon Trees are a combination of slick electric pop, sturdy organic rock and hook-happy new wave whose hard-hitting anthems speak of adolescent angst of love lost and found. Their first single "Animal" off their first studio album Habits climbed to #13 on the Billboard Hot 100.
Grammy-award winner Jeff Beck will perform Sunday evening, May 1 on the Tire Kingdom Stage. Beck helped revolutionize rock music and inspire countless individuals with his unique approach to playing the guitar. He is known as one of the most influential guitarists in the history of rock music and has recognized Les Paul and John McLaughlin as being major influencers on his sound.
Multi-day tickets are the best way to save on tickets!
Best Deal – March Moneysaver – 5 Day Ticket Promotion for $54 When this deal is gone, it's gone, buy before 5 p.m. on March 31.  To purchase tickets online:
http://www.sunfest.com/ticketpromotions


2011 FESTIVAL DAYS/HOURS
Wednesday, April 27: 5-10 pm
Thursday, April 28: 5-11 pm
Friday, April 29: 5-11 pm
Saturday, April 30: Noon-11 pm
Sunday, May 1: Noon-9 pm
THE VERIZON WIRELESS FIREWORKS SHOW
The Verizon Wireless Fireworks Show closes the Festival with a bang on Sunday, May 1 at 9 p.m.
Warped Tour Interview-Haste the Day
On Your Side is the newest album out by the alternative group called A Rocket to the Moon. This band is quite talented and are able to write some  "stuck in your head"  lyrics that complement their upbeat melodies.  From the first listen, I felt engaged in these catchy melodies that assured me that life would be good – no matter what.  Many of the songs might sound similar to their first released single, Mr. Right, however it's no mystery to see why fans love Mr. Right. It's catchy melody is compelling and I think most people will truly relate to these songs. Most of the songs center around the universal subject of love, an obvious crowd-pleaser, however, every song has a specific message that never feels overdone or trite – either musically or emotionally.
I especially enjoyed the song Annabelle, a moving song that  confirms the feeling  that this is a band of 'real guys' - not superficial guys searching solely for good looks or a good time.  The song portrays a rather sincere guy hoping to find a genuine girl.  A Rocket to the Moon's personality seems on display and resonates throughout their CD.  The lyrics – lyrics which are jointly written by the band – reflect thought and emotion.  In each song, I was drawn into and believed lead singer and guitarist Nick Santino's emotion while he pours out his heart. I was impressed by his passion revealed by each of his heart-felt lyrics.
A Rocket to the Moon produces their own, very unique sound, which is not something many bands these days can claim. They are definitely not a band that has to rely on sound effects or gimmicks.  Instead, ARTTM puts forth genuine talent, hard work, honest lyrics, enjoyable melodies – all backed up with deeply- felt passion. And, to add to the enjoyment of this new release, after having had the real pleasure of experiencing their live show in Chicago at the House of Blues, I can vouch for the fact that A Rocket to the Moon is a  band that backs up their record with a beautifully performed and rocked-out live show.  I would highly suggest you give their new release a listen and by all means, catch them live if you can.
CONCERT REVIEW FOR A ROCKET TO THE MOON, MAYDAY PARADE, AND WE THE KINGS at the House of Blues, Chicago Feb.07 – by: Becca Kang
A Rocket to the Moon, an alternative band, wedged right in the middle of the concert lineup, delivered a great time of hype and rocking out at the House of Blues Chicago. Simply phenomenal, with catchy lyrics and beats, the entire crowd at theHouse of Blues was filled with smiling faces and dancing feet. Lead singer, Nick Santino wore a genuine smile upon his face as he sung his heart out and as his entire band never failed to rock out with the grateful crowd. Fans enjoyed the happiness that emanated from the music, tapping their feet, clapping their hands and roaring their approval . I couldn't help but smile constantly. A Rocket to the Moon delivered the kind of show that gives any unfamiliar audience members a reason to go home and search ARTTM songs on the web and really give the songs a listen. They are obviously "the band to know."
Next up, Mayday Parade stuck true to its rock out persona and had the entire house off their feet from the first note. The energy was incredible as Mayday Parade blasted song after song with barely a break in between. There was a continuous flow of rocking. Bassist Jeremy Lenzo and electric guitarist Brooks Betts continuously criss-crossed the stage, punctuated by leaping up onto their equipment to play wildly to the crowd. Lead singer, Alex Garcia, sung beyond the point of exhaustion. Even when it seemed as though he could not go another note longer, he shouted out his melodies and kept the evening's energy sky-high. Exhaustion was just not an option; no one wanted to stop the party. Jumping and rocking out to Mayday Parade was incredibly exhausting — but of course, that's what we spend our good money for!
Finally, Florida's We the Kings blasted onstage and was obviously a real crowd favorite. Almost immediately, the crowd escalated excitedly from moshing to crowd surfing. Travis Clark, lead singer, made sure to connect and bond with the audience by telling stories about the songs before belting into them. He had the audience singing and vibrating with every song, especially the old favorites. The band delivered a great show for the audience from start to finish.
At one point, Clark told the story of the "gang sign" of We the Kings which conveyed a personal connection to everyone in the crowd. It was as if We the Kings' personality was evident on stage in every move — which makes for a more interesting and compelling experience. Feeling like "old friends", we fans felt more in tune with the vibe of the band as they continued to rock out feverishly with us. Even the soulful, slower-tempo songs were sung with great emotion. Travis sings with complete honesty while his melodies were presented as if offering his heart on his sleeve to the crowd. The progression of the playlist was beautifully thought out and quite effective. As the show roared on, the crowd escalated into a frenzy and couldn't help but beg for more. By the last song, the pit was overcome with bouncers who peeled screaming and sweaty fans off the crowd's hands before delivering them back to the floor. When Travis Clark leaned into the crowd singing, the crowd went in a crazed frenzy, hoping just for a touch of Clark's signature long, red locks. Finally, the concert ended with a cry for more as absolutely no one wanted to leave.
Interviews with Matisyahu, and Cage The Elephant have been added to the Loonatic Tv network! You can catch any of these interviews any time you want in the rock star stories on-demand section!
by Sami Ponoroff
Allison Iraheta's debut album, Just Like You, is a disappointment. Although her vocals sound great, as they did on the last season of American Idol (she placed 4th), her songs are lackluster and without meaning. Many of the songs are based on the ideas of relationships and love, as most are, but are only so in a shallow way. One of the worst songs, entitled Robot Love, spends a good part of the song discussing how her boyfriend prefers texting to her. The many technological references are childish and meaningless. This album does not really appeal to anyone over the age of 11, and, let's be honest, all little kids are looking for is a fun beat. All in all, Iraheta's debut album is a bust. There is only hope that on her next album her killer voice will be accompanied by killer songs.
We added The Ting Tings "Great DJ", Temper Trap's "Sweet Disposition" and Hey Monday's "How You Love Me Now". Â Check them out!
by Vanessa Paredes
It's here. The highly anticipated, overly hyped, oh so talked about film: New Moon. The second installment of the Twilight Saga hit the big screen this November and you can bet your life savings that the lines were outrageous and theaters were sold out all over the nation. Fully equipped with a new director (Chris Weitz), New Moon definitely out staged the production of Twilight, but not by a long shot. If one thing is for certain though, it's that Edward Cullen is about to blend into the shadows and a new obsession will arise; his name is Jacob Black.
In New Moon, Edward Cullen (Robert Pattinson) and Bella Swan (Kristen Stewart) couldn't be more awkward with each other, and there is a reason behind it. Edward plans to leave forks and Bella behind. He does so early into the film, and the "break up" shakes up the story line, bringing forward Jacob black (Taylor Lautner) to our attention. Once Bella really starts warming up to her new "friend" another fantastical secret is unraveled. Vampires are not the only non-humans roaming around Forks; Jacob and his "clan" take the form of wolves in order to "protect" the town from vampires, or at least the evil kind. Naturally, Jacob falls in love with Bella while Edward is absent, and this creates a chaotic love triangle that will be a major theme in the movies to come. Just when it seems like Bella is finally warming up to the idea of liking Jacob back, Edward is forcefully engrained back on to her feeble mind when he makes a phone call to the Swan residence for the first time after his disappearance.
Bella gets on a plane to Italy faster than you can say vampires are not real, in attempts to save her soul mate from killing himself. Edward had been mal-informed that Bella had passed away, and finds only one solution: plead the Volturi (Organized coven of vampires) to take his life, which is no easy task, being a vampire and all. The Volturi consisted of the best actors in the film, including big shots such as Dakota fanning playing Jane, and Michael Sheen as Aro. How the movie ends can be yours to figure out.
New Moon shouldn't break a sweat impressing the teenage female population. Weitz incorporates all the right elements, and some of the scenes are beautifully done. Although the movie does lack decent actors, because let's face it, Robert Pattinson can't act to save his life, the movie-goers will still sink their teeth into this vampire fantasy flick. In addition the film was successful in staying true to the book, which will hopefully keep the Twi-hard's complaints to a minimum. So get those movie tickets and enjoy the era's newest craze.